Welcome to the MFL page
Learning a language is 'a liberation from insularity and provides an opening to other cultures'
-DfE, 2013
Spanish
At Birkdale Primary, we really believe that learning a language helps to equip pupils with the knowledge and cultural capital they need to succeed in life. It also encourages pupils to appreciate and celebrate difference. Furthermore, it provides the foundations for learning further languages which will ultimately enable enable our pupils to study and work in other countries.
Across Key Stage 2, we use the Language Angels scheme that has been designed by an experienced team of foreign language teaching specialists who have spent thousands of hours creating, testing and refining the pre-planned lessons and resources to ensure successful Spanish teaching and learning. A typical lesson will make use of the scheme's interactive whiteboard materials, games, songs, raps and differentiated worksheets.
-Intent-
The Language Angels scheme of work and resources ensure we offer a relevant, broad, vibrant and ambitious foreign languages curriculum that will inspire and excite our pupils using a wide variety of topics and themes.
All pupils will be expected to achieve their full potential by encouraging high expectations and excellent standards in their foreign language learning - the ultimate aim being that pupils will feel willing and able to continue studying languages beyond key stage 2.
The four key language learning skills; listening, speaking, reading and writing will be taught and all necessary grammar will be covered in an age-appropriate way across key stage 2. This will enable pupils to use and apply their learning in a variety of contexts, laying down solid foundations for future language learning and also helping the children improve overall attainment in other subject areas.
The intent is that all pupils will develop a genuine interest and positive curiosity about foreign languages, finding them enjoyable and stimulating. Learning a second language will also offer pupils the opportunity to explore relationships between language and identity, develop a deeper understanding of other cultures and the world around them with a better awareness of self, others and cultural differences. The intention is that they will be working towards becoming life-long language learners
All classes across Key Stage 2 will have access to a very high-quality foreign languages curriculum using the Language Angels scheme of work and resources. This will progressively develop pupil skills in foreign languages through regularly taught and well-planned weekly lessons taught by our non-specialist teaching staff.
Children will progressively acquire, use and apply a growing bank of vocabulary, language skills and grammatical knowledge organised around age-appropriate topics and themes - building blocks of language into more complex, fluent and authentic language.
Units, where possible and appropriate, will be linked to class topics and cross curricular themes. Children will build on previous knowledge gradually as their foreign language lessons continue to recycle, revise and consolidate previously learnt language whilst building on all four language skills: listening, speaking, reading and writing.
Units are progressive within themselves as subsequent lessons within a unit build on the language and knowledge taught in previous lessons. As pupils progress though the lessons in a unit they will build their knowledge and develop the complexity of the language they use. We think of the progression within the 6 lessons in a unit as 'language Lego'. We provide blocks of language knowledge and, over the course of a 6-week unit, encourage pupils to build more complex and sophisticated language structures with their blocks of language knowledge.
Pupil learning is documented in our red folders and progression will be assessed at the end of each unit and teachers will assess each language skill (speaking, listening, reading and writing).
Our Spanish Folders
-Impact-
As well as each subsequent lesson within a unit being progressive, the Language Angels units also directs, drives and guarantees progressive learning and challenge. Units increase in level of challenge, stretch and linguistic and grammatical complexity as pupils move through Key Stage 2.
Pupils will continuously build on their previous knowledge as they progress in their foreign language learning journey through the primary phase. Previous language will be recycled, revised, recalled and consolidated whenever possible and key units are revisited to ensure the consolidation of key vocabulary.
Children are expected to make good or better than good progress in their foreign language learning and their individual progress is tracked and reported to pupils and parents / carers.
-Subject Pupil Voice-
From our Pupil Voice feedback, it was clearly that most of children felt that speaking was the best part of their Spanish lessons. Most children enjoyed singing songs in their lessons and were able to identify lots of different elements of challenge in their lessons.
Our Subject Ambassador was able to dig deeper into our Year 6 children's attitudes towards language learning and this revealed that some children described the subject as "fascinating", "exciting", and my personal favourite "hard fun". When quizzed about why we learn another language, children were able to inform us that "we should learn about their culture", "so we don't disagree or argue about someone's culture" and "so we can understand people from Spain".
-Subject Ambassador-
This year our new subject ambassador has shown they are enthusiastic about promoting the teaching and learning of Spanish across Key Stage 2. This year we will be working together to deliver a 'Languages' celebration day, implementing Pupil Voice ideas and will be participating in a special performance for 'La Fiestaval'.
-La Fiestaval-
In Spring, selected Year 6 pupils have been given the chance to work hard on a special performance for the annual 'La Fiestaval' event held at Greenbank. So far we have delivered smash hits with "Los Numeros" (inspired by Adam Ant's hit "Prince Charming"), "El Recuento Final" (inspired by the Europe hit "The Final Countdown") and last year's Happy Days with a Spanish twist ... "Los Dias Felices". This year we were back with a fan favourite "El Recuento Final" after a long time away due to COVID restrictions. The children should be incredibly proud of all they managed to achieve by only rehearsing in their own break time!
2022's Spanish Super Stars!
2019's Stars
-Resources-
If you wish to take your learning further or help your child develop their confidence in Spanish then listed below are some fantastic websites that could help you.
Click the image to follow the link to the website.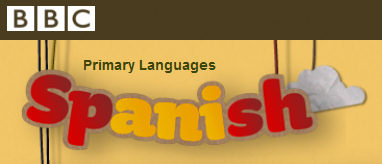 BBC Primary Languages
Crickweb Spanish
Light Bulb Languages Spanish
Everyschool Spanish
Thank you for visiting!