Welcome to the MFL page  
❝Language is the road map of a culture.
It tells you where people come from and where they are going"
‒ Mr. Stevenson, 2016
(quoting Rita Mae Brown)
Spanish
Español
Welcome to the Spanish curriculum page where you can find out about all the wonderful things we've been learning about in school this year! 
-Autumn-
otoño
This Autumn, teachers and pupils, have been getting used to our new language. In order to launch our new language, we have adopted a whole school approach and all children have been learning key vocabulary!
We started by looking at typical classroom commands and have become much more confident using them on a daily basis. 
We have also been looking at various topics such as colours, the days of the week, months and most recently we have been using this knowledge to record our birthdays in Spanish. 
-Spring-
primavera
This Spring, we have recapped on greetings and looked at how to introduce ourselves formally. We have also began to look at introducing members of our family and enjoyed looking at famous families.
This term, children will continue to practice Spanish numbers and months as to prepare them to confidently converse with other pupils about their age and their birthdays.
The children will also be looking at Sports and expressing their opinions about certain sports. We will finish the term by looking at body parts and sing along to "Cabeza, hombro, rodillas y pies". 
-Resources- 
recursos 
If you wish to take your learning further or help your child develop their confidence in Spanish then listed below are some fantastic websites that could help you.
Click the image to follow the link to the website.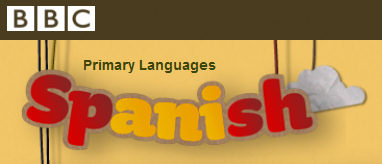 BBC Primary Languages  
Crickweb Spanish 
Light Bulb Languages Spanish 
Everyschool Spanish
Please continue to return to our Spanish page in order to see what we have been learning about next. Thank you for visiting!