Welcome to the MFL page  
❝Language is the road map of a culture.
It tells you where people come from and where they are going"
‒ Rita Mae Brown
Spanish
Español
Welcome to the Spanish curriculum page where you can find out about all the wonderful things we've been learning about in school this year! 
-Autumn-
otoño
This Autumn, teachers and pupils have been getting used to our new language scheme "Language Angels". We have adopted a whole school approach and all children have been enjoying learning the Spanish vocabulary!
We have looked at typical classroom commands and have become much more confident using them on a daily basis. 
We have also been looking at various topics such as what life is like in Spanish, the colours, the days of the week and months.
Selected Year 3 children were able to attend an after school club this term. We enjoyed using our new vocabulary in sessions but also were thrilled to read and perform a traditional tale in Spanish - Ricitos De Oro y Los Tres Osos. 
.
-Spring-
primavera
This Spring, we have enjoyed learning about "Los Animales" and we have been able to read, identify and write various animal names. 
We have also enjoyed the unit "Los Instrumentos" and been able to record a variety of instruments names and use the vocabulary for "I play".
Selected Year 5 and 6 children have also worked hard on a special performance of "El Recuento Final" (The Final Count) for a languages celebration festival held at Greenbank High. This 80s inspired hit proved to be a great close to the evening. 
Our younger children have also been enjoying learning Spanish songs and join in eagerly to "Cabeza, hombro, rodillas y pies". 
-Summer-
verano
This Summer term, children will be enjoying reading, listening and responding to a traditional tale told in Spanish - "Caperucita Roja". Any ideas what story it may be? 
We will also be looking at classroom objects and revisiting our classroom commands this term. 
-Resources- 
recursos 
If you wish to take your learning further or help your child develop their confidence in Spanish then listed below are some fantastic websites that could help you.
Click the image to follow the link to the website.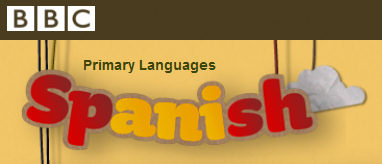 BBC Primary Languages  
Crickweb Spanish 
Light Bulb Languages Spanish 
Everyschool Spanish
Please continue to return to our Spanish page in order to see what we have been learning about next. Thank you for visiting!